Jereko RTA components are manufactured in 1/4″ increments.
Each cabinet includes:
Front Frames
1″ thick x 1″ width front frame pocket screwed and dovetailed to receive sides and dadoed to receive top, bottom, and partitions.
Front frames have a 1/4″ radius reveal on vertical stiles, also on the inside of top and bottom rail for a clean appearance.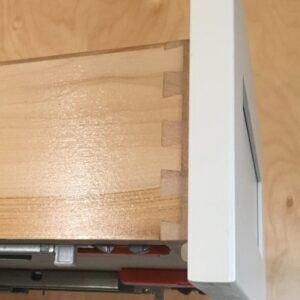 The craftsmanship on a dovetailed drawer.
Box Parts
1/2″ prefinished birch sides are dovetailed top, bottom, and back to receive the corresponding parts.  1/2″ prefinished birch tops and bottoms have pocket screw slots to fasten to the front frame.
Sides are drilled with 5mm holes for adjustable shelves.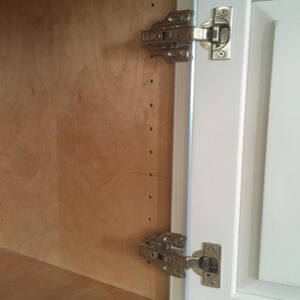 Quality soft-close door hinges.
Shelves/Hardware
3/4″ plywood shelves prefinished 2 sides with a
matching PVC edge band.
Soft-close Blum hardware is used on doors and drawers
3/4″ doweled plywood drawers or dovetailed drawers available.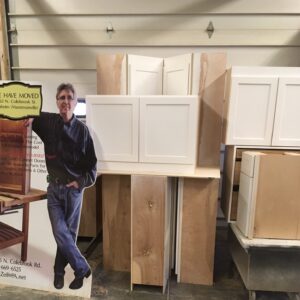 Jere in front of assembled RTA wall cabinets.
The ready to assemble cabinets look tremendous. They are of the highest quality. The face frames and doors/drawer faces are soft maple, and the interior plywood, not chipboard or MDF, looks great. They are professionally finished and look beautiful. My wife commented that she didn't know that our kitchen could look so good.
We started working with Jere Zell at Mill Creek cabinetry 23 years ago to design a kitchen and other cabinets in our custom home.  In later years we worked with Jere on a kitchen expansion in our home and custom cabinets for our seasonal property.  Jere has always provided creative solutions to meet our needs.  The workmanship and quality have stood the test of time… the cabinetry looks as good today as it did 23 years ago.  We've seen the RTA (Jereco) cabinet construction in its early development and are looking forward to using the RTA product on a future project.
I couldn't be happier about how the cupboards came together in my new kitchen. Both inside and out they are the finest quality. The surface on the outside is smooth and easily cleaned. Inside the natural wood is attractive. The shelves line up and can be adjusted to any level. They go all the way to the ceiling…yea!
Working with the owner, Jere Zell, of Mill Creek Cabinetry was a wonderful experience.  Our home was 21 years old at the time and needed a kitchen update.  When we contacted Jere he came to our rescue promptly and knowledgeable.   We explained what we wanted and he was instrumental in the design and provided the perfect recommendations; such as, pull-out dish drawers, self-closing drawers, and cabinet doors just to mention a few.  Mike assembled the cabinets himself and enjoyed the experience tremendously.  We could not be happier with the results.  As a matter-of-fact, we were so happy with the cabinets that we had MCC re-do our laundry room and master bathroom.  It should also be noted that Jere handled our projects personally and the price of our projects was reasonable.  We highly recommend MCC.