Do you want a new look for your kitchen or bathroom
without replacing the existing cabinetry?
Custom Painting may be the solution!
Refinishing and Repainting Cabinetry
We can resurface your kitchen cabinets at a fraction of the cost of replacing or refacing.  Your cabinets will not fade, peel, or discolor. and they will be easy to clean!
We are proud to introduce our new product line:
Jereko-RTA Components
Responding to the current demand for Ready-to-Assembly (RTA) components, Mill Creek Cabinetry is proud to introduce JEREKO.
JEREKO is a product line that Jere has been researching, developing, and manufacturing for several years.  We manufacture custom sized RTA component parts that fit perfectly in your kitchen, bath, and other room's cabinetry.
Building Custom Cabinetry for Nearly 50 Years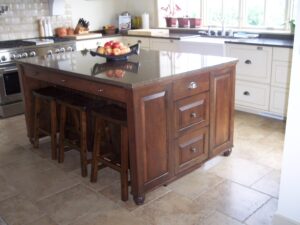 Mill Creek Cabinetry is a manufacturer of custom cabinetry for residential and office settings. Quality crafts­manship with personalized service has been the cornerstone of the business since its in­ception. The shop began in a small restored smokehouse in Elizabethtown, Pennsylvania in 1974.
Customer satisfaction was — and still is — paramount to Mill Creek Cabinetry.  Over the years there have been many changes, but the emphasis on quality craftsmanship with personalized service remains the same.